I first heard about All About Spelling because a few friends were using the products and it sounded interesting.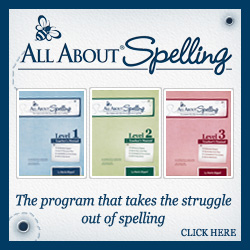 When it arrived I laughed - no fill in the blank worksheets?  I received letter cards my son was to manually move around and create words.  I was not excited – I liked worksheets !
However, he loved moving the letters around to make new words and build bigger words from root words.  We changed vowels to create new words.
Thinking this curriculum was for "beginners" after a year I switched to something a bit more challenging – Sequential Spelling.  I liked the idea of "building" on words and not having "themed" lists.
Unfortunately after 27 lessons it became apparent this curriculum was not a good fit for my son.  1. He's not big on dictation. 2. He's not confident trying to spell words he has never seen before (and words we do not use in every day conversation – or ones mommy has to look up in the dictionary, flout?!).
I switched back to All About Spelling and our first lesson my son shouted,
"It's like The Electric Company on my desk"!
He was so excited to be "in control" of the letters again and form the words himself.  This is huge for a tactile learner – not to mention great because it doesn't feel like "work".  He wants to build more words and come up with rhyming words because it's a challenge and fun.  With this curriculum he can easily see why he got something wrong and/or see patterns and understand rules better than me explaining it.
The boys also loves his Homophone workbook!  He can't wait to do another crossword puzzle!
If you have a tactile / visual learner (or if you're not sure and your child loves blocks / legos) I highly encourage you to look into All About Spelling Curriculum!
The teacher's guide is straight forward and easy to use.  Unlike another spelling program that does not even offer any instruction / how to teach words.  This teacher's book also shares what cards you will need, what questions to ask, and reason behind spelling rules (English words do not normally end in "i")!
* my letter cards look different because we may have

lost

misplaced them and I did not purchase another starter kit.  I printed out generic letters – which work the same.